For over 30 years Phoenix has helped people solve their problems, overcome their obstacles, and heal their minds and bodies.
Who Needs To Hear From Phoenix?
Anyone who is stuck like a gerbil in a wheel and frustrated with the endless circles of negativity and lack of progress.

People who have repeating cycles of attracting the wrong people and circumstances into your life.

Individuals who suffer from Post Traumatic Stress that interferes with everyday activities, relationships, and crushes your happiness.

Anyone that has "body armoring" (excessively tight muscles and protective, reactive thinking).

Anyone wanting to explore how your thinking directly and radically affects your health, and how to empower your thoughts to create optimal health.

Anyone wanting to transform and take their lives to the next level of happiness, productivity and satisfaction!

People who have:

Been through extensive counseling with limited results

Spent years reading self-help books

Recurring flashbacks, nightmares, toxic relationships and dissatisfying work conditions
Top 10 Reasons Phoenix Should Be Your Next Your Motivational and Inspirational Keynote Speaker
I. Phoenix's uncommon knowledge and skills have helped countless people overcome their difficulties and solve their problems who had exhausted their hope and failed with all other avenues–until she helped them change their perspective, implement empowering, cutting edge techniques, and transform their lives!
II. She can show you how to overcome difficulties or whatever is holding you back because she lived through years of surreal adversity until discovering hidden "timeless truths" and transforming her own life. As a true "survivor" she knows firsthand the effort, skills, and courage it takes to engage your entire being and achieve your full potential. 
III. She is a master at uncovering the benefit in the problem and showing others how to examine and purposefully design success through mental toughness, adjusting perspectives, and personal accountability.
IV. Her expert knowledge of mind/body wellness techniques to engage the whole brain, helps you get "unstuck." and uncover your latent talents.  With over 25 years experience in mind and body wellness practices, she can help you discover your personal path to maximizing your potential and transforming your life.
V. She relates to people with empathy, while encouraging them to take total personal responsibility for their problems. She advocates "quit blaming others and achieve your potential". As long as you continue to be a "walking witness" against those who have truly wronged you, you will hang onto the emotional wounds, illness, injuries, and dis-empowering states. Learn techniques for effectively letting go to empower yourself.
VI. Your success and happiness in life will be determined mostly by your ability to understand and get along with others. Phoenix helps you develop your emotional intelligence, and solve relationship problems while fine tuning your own inner guidance system

for the most

effective results. 
VII. Phoenix has been a successful small business owner for over 25 years in the healing arts. She has an entrepreneurial spirit and helps people discover and maximize their unique talents and skills to design and implement their ideal life.
 VIII. She is playful and witty and shares real stories of triumph, trials, overcoming adversity, and the mental toughness skills she acquired– to actually survive. Professional problem solving became a way of life. People hang on every word so no one ever falls asleep during her presentations. It's too much fun to miss out on.
 IX.  She presents fresh, innovative material— not the same, tired, motivational, ideas that have been recycled for years.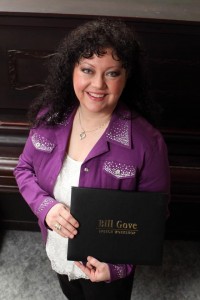 Bill Gove Speech Workshop Graduate
X. She knows how to work an audience! She started out as a singer and has won many awards and scholarships. Getting an audience to respond with enthusiasm and determination to transform their lives is her passion.
As a graduate of the prestigious "Bill Gove Speech Workshop" she continues her earlier path of entertaining an audience– but now she does it with stories, instruction, and sometimes……. even a song!
 Many Problems to Solve:
"My life has been filled with enormous difficulties such as "terminal" health problems, toxic relationships that included abuse, and opposition that would stop many dead in their tracks. When I tell people a few of the examples of the problems that have filled my life, they look at me aghast. They often wonder aloud,"–How could so many bad things happen to a good person?" 
Let me give you one example—there are so many….
I tried for 7 years to have a baby.  Seven times I miscarried and grieved the loss of a child. It was devastating! Then a miracle happened, I got to adopt a happy little, baby boy. And then, when I was 30, another miracle happened. I gave birth to a beautiful baby girl.
But just after my daughter's birth, I became extremely ill. I finally had my miracle family, and right after that I was fighting to stay alive. My little boy was just 2 years old, and my baby girl was just born when their mama started to die…."
Let me share with you a journey of struggle and triumph against seemingly insurmountable odds that will inspire you to rise above any challenges and difficulties you have in your life!
It's not just a story about my life but a personal vision for your profound transformation. As a qualified survivor, I'll show you the path to create your best life, reach your maximum potential and unleash your personal power.
Audiences agree that my entertaining presentation style, has them laughing one moment and crying the next.
Develop YOUR mental toughness, and peak potential with a real down-to-earth, speaker who touches the audience from the heart.
Hear original true stories like, "The Naked Gunman," "Life-Saving Dare,"  "Zipline to Freedom" " Cliffhanger at Dead Horse Point"   "Carpe Mortem, and "A Good Day to Die Young."
Each speech also includes fresh bonus material.

Phoenix is Available for Coaching and Consulting
Let her be the "Problem Solving Transformation Expert" for Your Organization
INTUITION:
An area of particular importance to everyone is learning how to receive Inspiration or Enlightened Intuition. An entire chapter in my book, Turning Trials Into Triumphs The Way Of The Phoenix is devoted to this subject and it is covered extensively as a subject in my public speaking topics in a speech called: Refining Your Intuition and Receiving Enlightened Inspiration
Inspiration is an important key to finding your personal path to greatness. 
My journey is different than yours, but I will show you what I've learned along the way. Ultimately, YOU will be inspired with your own insight into what works best for you. You will understand the direction you need to take to find happiness, and begin living your life purpose—which you choose for yourself.
"Learning to obtain inspired guidance is perhaps the most important skill you may ever learn. It will help you to find your path to excellence, safety and happiness."
— Phoenix Alexander
You can create an amazing transformation and begin living the life you purposefully design.