Transform Yourself With These Exclusive Products:
Turning Trials Into Triumphs The Way of the Phoenix  $24.95
What Makes This Book Invaluable?
It's filled with personal experiences from the author's life that illustrate the Timeless Truths that can transform yours! It's as much a personal empowerment resource reference, as it is a book that flows from chapter to chapter.
You don't have to read the entire book to gain great benefits. You can simply turn to the chapter with information on the particular difficulty you are experiencing or the areas you want to improve upon in your life. It's written with room for you to write in as a workbook format.
To order in bulk from the Publisher contact me at:
MyNameisPhoenix2@gmail.com

Transform Yourself The Way Of The Phoenix
What Everybody Ought To Know — About How To Turn Trials Into Triumphs, Overcome Adversity, Develop Mental Toughness And Be Happy!
7 hours of countless, insightful, and innovative ideas that you can apply right now to turn your life around.
Audio Testimonial For Transform Yourself By Nancy Haller, Author of "I Don't Know How Long My Short Term Memory Is: Strategies For People With Brains"
Resources from Turning Trials Into Triumphs:
Uncommon Avenues to Healing and Well-Being:
Alternative Health and Wellness
Light Sound Machine  $350.00
Note: Should not be used by anyone with seizure disorders.
Expand Your Mind–Legally!
Take your brain to the next level!
Light sound machines

are designed to create specific brainwave patterns–(alpha, theta, beta and delta.) Depending on the program and the brainwave state you choose you can do so many different things. We tend to get stuck in our ordered logical, left brain hemisphere in our society.
Balance your Brain: Some programs on this machine send stimulus back and forth to both eyes assisting in synchronizing or bringing balance to both brain hemispheres.
Increase Creativity: The stimulus of the right side of the brain can bring more creativity to your thinking and possibly assist to provide more creative solutions in problem solving.
Increased Energy: Some programs help you to feel more energized and revitalized.
Relax Into Sleep: Other programs help you relax into sleep or lucid dreaming. They are amazing for a quick nap or jet lag. Some programs can be used for enhanced learning, or releasing unresolved ideas from the mind.
Decrease Stress:

This is a powerful tool for overcoming stress and can put you into a deeply relaxed state achieved by advanced meditators. You can even entertain yourself with your own little laser show set to music you have chosen.
Balance Chakras: Another fascinating program has sound pitches designed to resonate with the seven energy centers in the body known as chakras.
Meditation

Made Simple: With some programs you can achieve deeply relaxed, meditative states. The fascinating thing about this machine is that your own mind creates the visual patterns you see from the blinking lights. This makes it uniquely custom for you!
Affirmations –Increased Effectiveness: I have used this band of light sound machine for over 2 decades to enhance the use of affirmations and guided imagery. I recommend this tool as the most valuable state of the art technology that I have used for helping to create my desired mood and physiological (brainwave) state.
Create a Mind State Change

: It's an incomparable "mind state shifter" to get me out of thought patterns I've been recycling and input new ideas and feelings. I use it especially when I want to calm my anger and get to a more relaxed state to begin using the anger to problem solve. I use a relaxing program when I want to calm anxious or worried feelings. I frequently use it to rejuvenate when I feel tired or need a quick nap.
Quality that lasts

: My first light sound machine lasted for more than 16 years. This brand is excellent. I have tried others for comparison and there really is no comparison. Forget the others- begin with the best.
This is a safe, effective, non-habit forming, drug-free, mind state management tool!
Note- The headphones that come with your light sound machine may vary from the ones shown in the picture. I use a high quality set of headphones to maximize my experience.
From the Manufacturer:
"Light and Sound Systems" or "Mind Machines" have been on the market for years. Thousands of users have logged many hours on them with virtually no reported ill effects.
There are some situations and conditions where use of our products is strongly discouraged. These devices create flickering light, which can cause seizures in persons with photosensitive epilepsy. No medical claims are made for any product on this website, expressed or implied. Our products are not intended for or replacement of additional medical or psychological treatment.
You must not rely on the information on this website as an alternative to medical advice from your doctor or other professional healthcare provider.If you have any specific questions about any medical matter you should consult your doctor or other professional healthcare provider.If you think you may be suffering from any medical condition you should seek immediate medical attention.You should never delay seeking medical advice, disregard medical advice, or discontinue medical treatment because of information on this website.
Aromatherapy Products:
Aromatherapy for the Body and Mind Pamphlet:
A thorough look at the properties of 40 Essential Oils. Learn the history of Aromatherapy and everyday uses of Aromatherapy to enhance and shift moods, to increase immune function, create scent memories, fragrance your environment naturally, and so much more.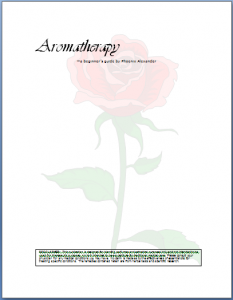 $7.95
No Refund Policy
Phoenix M Alexander DBA  www.MyNameIsPhoenix.com does not give refunds on intellectual products such as books, CD's, DVD's, seminars and videos. The reason is that once you have listened to or read them you have "consumed" them and received the benefit–unlike a product like a shirt that you could return because it doesn't fit.
I put my absolute finest effort into making this information available to you in a unique compilation. I believe that you will receive significant value from the products and seminars that I deliver.
If you find that your product, like a CD or DVD, does not play properly or is defective, you can return it for a replacement of the same product.
I do not give refunds on any of the products I sell, but I do offer the finest quality product I can provide to you. I think you will agree.
Phoenix Alexander